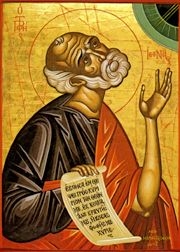 I may be one of the few people in the world who considers Jonah among my favorite books of the Bible. Don't @ me. The book of Jonah has a lot of things going for it:
Emphasis on God's grace, mercy, love, and forgiveness
High seas adventure
Near death experiences
A man swallowed by a gigantic sea creature
An entire city on the verge of destruction
Angry outbursts and melodrama by the overly emotional main character
A protagonist that you just can't really like, but is also super relatable
Twists, reversals, and ironic situations
A cliff hanger ending
There has been a lot of debate in scholarship about whether Jonah is based on a true story or if it's merely a fictional parable. I'm not going to get into it much except to say that it has a lot of similarities to the stories of Elijah and Elisha. If it's based on a true story, then it's quite a remarkable tale! But if it's not grounded in fact, it is still an amazing story that illustrates God's love to its fullest extent and reveals our own failure to live up to God's expectations.
If the story of Jonah is a parable, it is, in a way, THE parable of the Bible.
It begins with a pretty standard format:
Now the word of the Lord came to Jonah the son of Amittai… (Jonah 1:1)
Right from the start there are some things worth diving into. (Pun intended)
The author wants us to know that God is the main character, the main driver of the plot in this story. Nothing else would have occurred had it not been set in motion by "The Word of YHWH." God is the main character. Jonah is just playing a supporting role in God's story.
I can think of a couple other instances when God's word set great things in motion. Immediately this should bring us back to Genesis 1 – the beautiful song of creation that begins our whole Bible. It is by the power of God's word that he sets time and space into motion. "And God said…" is the driving force of creation. God's word has power. God's word must be obeyed – at least by nonhuman creation. That is an important distinction to keep in mind.
For Christians, this should also bring us to John 1, "In the beginning was the Word…" John wants us to know that "the Word of YHWH" took on flesh and moved into the neighborhood. His name is Jesus. Immediately, there is a solid connection between Jesus and Jonah – a connection that will be made more and more clear as the story unfolds.
What do we know about Jonah? First off, names almost always have significant meaning in the Bible. This is no exception. Jonah's name is the Hebrew word for "dove." He is the son of Amittai, whose name means "God is Faithful." Jonah is a flighty prophet, here one moment and gone the next. When things get uncomfortable, he flees. But he is the son of God's faithfulness. Where Jonah runs away, God is faithful in pursuing Jonah. God is faithful to Jonah even if Jonah is not faithful to God.
"Jonah, son of Amittai" is a good synopsis of what the story is about.
This is not the first time we encounter Jonah, either. We find him first mentioned in 2 Kings 14.
In the fifteenth year of Amaziah the son of Joash, king of Judah, Jeroboam the son of Joash, king of Israel, began to reign in Samaria, and he reigned forty-one years. And he did what was evil in the sight of the Lord. He did not depart from all the sins of Jeroboam the son of Nebat, which he made Israel to sin. He restored the border of Israel from Lebo-hamath as far as the Sea of the Arabah, according to the word of the Lord, the God of Israel, which he spoke by his servant Jonah the son of Amittai, the prophet, who was from Gath-hepher. For the Lord saw that the affliction of Israel was very bitter, for there was none left, bond or free, and there was none to help Israel. But the Lord had not said that he would blot out the name of Israel from under heaven, so he saved them by the hand of Jeroboam the son of Joash. (2 Kings 14:23-27)
Jonah was a prophet in the Norther Kingdom of Israel during the reign of Jeroboam II (ca. 750 BC).
During Jeroboam's reign (who was an evil king, BTW) the borders of Israel were restored to the greatest extent they had ever been. Israel gain in power like it hadn't seen in a long, long time. Israel improved its military, its economy, and everything was going well. Israel had been made great again, all thanks to the prophetic word of Jonah, son of Amittai.
So we know that Jonah worked closely with the king. We know that Jonah oversaw one of the greatest surges in nationalistic power they had ever seen. We know that Israel's enemies were losing strength during this time. Jonah was surely swelled up with nationalistic pride and probably equated patriotism with religious fervor.
That's why the next words in the story are so shocking:
"Arise, go to Nineveh, that great city, and call out against it, for their evil has come up before me." (Jonah 1:2)
This was the first time God had called one of his prophets to go specifically to a gentile nation for the purpose of prophesying to/against them. Why is this important? Why Nineveh?
NINEVEH
The earliest mention of Nineveh is way back in Genesis 10. It was one of the major cities established in the Fertile Crescent along the Tigris River. Genesis claims that it was established by Nimrod as part of his kingdom. This automatically puts Nineveh in a bad light, because Nimrod was viewed as an enemy of God.
Nineveh is a very ancient city. It was an ancient city by the time the Assyrian Empire rose to power. The Assyrians were brutal. When they overthrew a city or nation, they would completely decimate its people and culture. Assyria had its eyes set on Israel for a while because Israel was a very strategic location. But during Jonah's time the Assyrian Empire had a string of incompetent rulers and was in a period of decline and upheaval.
Nineveh was not the capital city of Assyria at that time. But it was easily representative of the Assyrian Empire in much the same way New York City, Chicago, or Los Angeles would be representative of the USA. If God wanted to send a message to the Assyrian Empire, Nineveh was as good of a place as any.
But why even bother?
God tells Jonah that their "evil has come up before me." The phrase is similar to saying, "I've had it up to HERE with their evil!" YHWH had not turned a blind eye to the evils of the empire and the surrounding nations. YHWH would seize this moment of opportunity, while the empire was up against the ropes in decline, to try and reach them with his message of mercy.
And God chose Jonah to be the mouthpiece, the arbiter of grace to Israel's enemy.
What could possibly go wrong?
God told Jonah to get up and go to Nineveh…
But Jonah rose to flee to Tarshish from the presence of the Lord. He went down to Joppa and found a ship going to Tarshish. So he paid the fare and went down into it, to go with them to Tarshish, away from the presence of the Lord. (Jonah 1:3)
Jonah, what are you doing? Running away from God? Are you crazy?
Notice a few things about this verse. Tarshish is mentioned three times. This was a purposeful, deliberate plan on Jonah's part. He didn't just show up and board the first boat he came across. He wanted to pick the farthest point on the map – a three year round trip by some estimates.
"From the presence of the Lord" is said twice. Jonah knew he was directly disobeying God. He was doing everything he could to get out of this trip. By why would he think God wouldn't be in Tarshish? Because Isaiah had said as much:
I will set a sign among them. And from them I will send survivors to the nations, to Tarshish, Pul, and Lud, who draw the bow, to Tubal and Javan, to the coastlands far away, that have not heard my fame or seen my glory. (Isaiah 66:19)
God's word and presence hadn't been proclaimed in Tarshish. Perfect. Let's go there!
Jonah went down to Joppa and down into the boat. This begins a downward spiral, descending into further rebellion and distance from God and closer to chaos and the grave.
And that phrase "paid the fare" is better understood as commissioning the whole ship and crew for the voyage. He wasn't just buying a ticket for a bunk on the boat. He was financing the entire mission.
Verse three emphasizes the lengths to which Jonah was willing to go in order NOT to do what God told him to do. Nineveh was about a 550 mile, relatively easy trip across land via trade routes. Tarshish was on the Southern coast of Spain at the farthest edge of the Mediterranean Sea, risking storms, shipwrecks, pirates, disease, and more.
Jonah truly was the world's worst prophet. I don't like Jonah.
But then I realize that I see so much of Jonah inside me. To what lengths have I gone to avoid doing what God has called me to do? Who am I staying away from? What am I running from? What responsibilities am I shrugging off?
There's a little bit of Jonah in all of us.