Before we began this series, I had the students in our youth group submit questions about relationship matters. They asked some GREAT questions. So this week to wrap up the series we answered those questions. Last night in class four of our own high school students did some research and presented their take on these questions and topics.
If you missed out on the discussion, keep scrolling and you will find Scriptures and helpful articles to do some of your own research. I hope and pray that you will find the answers you need to help you develop and maintain God-honoring relationships with your friends, your parents, your siblings, and your significant others.

_______________________
How to deal with bullies / what to do if your friend is being bullied?
What to do if people are being jerks.

Check out these articles:
Read through these Scriptures:
Proverbs 16:18
Pride goes before destruction,
     a haughty spirit before a fall.
Proverbs 26:4-5
Do not answer a fool according to his folly,
    or you yourself will be just like him.
Answer a fool according to his folly,
    or he will be wise in his own eyes.
Proverbs 31:8-9
Speak up for those who cannot speak for themselves,
    for the rights of all who are destitute.
Speak up and judge fairly;
    defend the rights of the poor and needy.
Psalm 34:18
The Lord is close to the brokenhearted
    and saves those who are crushed in spirit.
Matthew 5:21-26
"You have heard that it was said to the people long ago, 'You shall not murder, and anyone who murders will be subject to judgment.' But I tell you that anyone who is angry with a brother or sister will be subject to judgment. Again, anyone who says to a brother or sister, 'Raca,' is answerable to the court. And anyone who says, 'You fool!' will be in danger of the fire of hell.
"Therefore, if you are offering your gift at the altar and there remember that your brother or sister has something against you, leave your gift there in front of the altar. First go and be reconciled to them; then come and offer your gift.
"Settle matters quickly with your adversary who is taking you to court. Do it while you are still together on the way, or your adversary may hand you over to the judge, and the judge may hand you over to the officer, and you may be thrown into prison. Truly I tell you, you will not get out until you have paid the last penny."
Matthew 5:38-48
"You have heard that it was said, 'Eye for eye, and tooth for tooth.' But I tell you, do not resist an evil person. If anyone slaps you on the right cheek, turn to them the other cheek also. And if anyone wants to sue you and take your shirt, hand over your coat as well. If anyone forces you to go one mile, go with them two miles. Give to the one who asks you, and do not turn away from the one who wants to borrow from you.
"You have heard that it was said, 'Love your neighbor and hate your enemy.' But I tell you, love your enemies and pray for those who persecute you, that you may be children of your Father in heaven. He causes his sun to rise on the evil and the good, and sends rain on the righteous and the unrighteous. If you love those who love you, what reward will you get? Are not even the tax collectors doing that? And if you greet only your own people, what are you doing more than others? Do not even pagans do that? Be perfect, therefore, as your heavenly Father is perfect."
Romans 12:17-21
Do not repay anyone evil for evil. Be careful to do what is right in the eyes of everyone. If it is possible, as far as it depends on you, live at peace with everyone. Do not take revenge, my dear friends, but leave room for God's wrath, for it is written: "It is mine to avenge; I will repay," says the Lord. On the contrary:
"If your enemy is hungry, feed him;
    if he is thirsty, give him something to drink.
In doing this, you will heap burning coals on his head."
Do not be overcome by evil, but overcome evil with good.
James 1:27
Religion that God our Father accepts as pure and faultless is this: to look after orphans and widows in their distress and to keep oneself from being polluted by the world.
1 Peter 2:23
When they hurled their insults at him, he did not retaliate; when he suffered, he made no threats. Instead, he entrusted himself to him who judges justly.
_______________________
How can you fix a broken relationship with family?
I feel like my family is falling apart, and I don't know how to handle it.
What do you do about constant parent/child disagreements?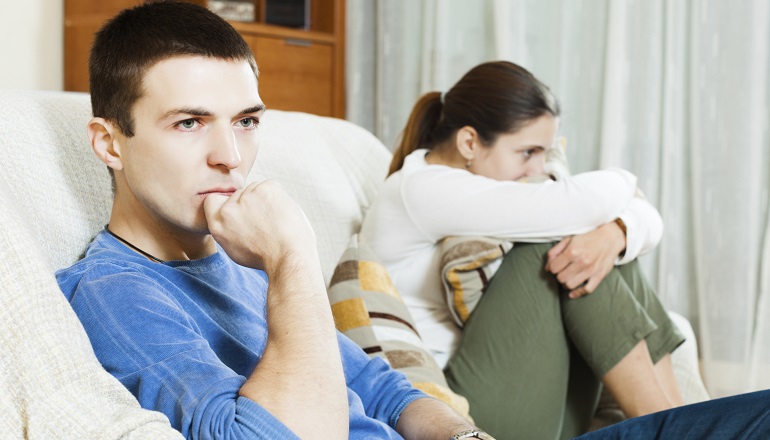 Check out these articles:
Read through these Scriptures:
Proverbs 10:12
Hatred stirs up conflict,
    but love covers over all wrongs.
Matthew 10:35-37
"For I have come to turn
'a man against his father,
    a daughter against her mother,
a daughter-in-law against her mother-in-law—
    a man's enemies will be the members of his own household.'
"Anyone who loves their father or mother more than me is not worthy of me; anyone who loves their son or daughter more than me is not worthy of me."
Matthew 18:15-17
"If your brother or sister sins, go and point out their fault, just between the two of you. If they listen to you, you have won them over. But if they will not listen, take one or two others along, so that 'every matter may be established by the testimony of two or three witnesses.' If they still refuse to listen, tell it to the church; and if they refuse to listen even to the church, treat them as you would a pagan or a tax collector."
Matthew18:21-22
Then Peter came to Jesus and asked, "Lord, how many times shall I forgive my brother or sister who sins against me? Up to seven times?"
Jesus answered, "I tell you, not seven times, but seventy-seven times.
Ephesians 4:31-5:2
Get rid of all bitterness, rage and anger, brawling and slander, along with every form of malice. Be kind and compassionate to one another, forgiving each other, just as in Christ God forgave you. Follow God's example, therefore, as dearly loved children and walk in the way of love, just as Christ loved us and gave himself up for us as a fragrant offering and sacrifice to God.
Philippians 2:1-5
Therefore if you have any encouragement from being united with Christ, if any comfort from his love, if any common sharing in the Spirit, if any tenderness and compassion, then make my joy complete by being like-minded, having the same love, being one in spirit and of one mind. Do nothing out of selfish ambition or vain conceit. Rather, in humility value others above yourselves, not looking to your own interests but each of you to the interests of the others.
In your relationships with one another, have the same mindset as Christ Jesus…
Colossians 3:12-14
Therefore, as God's chosen people, holy and dearly loved, clothe yourselves with compassion, kindness, humility, gentleness and patience. Bear with each other and forgive one another if any of you has a grievance against someone. Forgive as the Lord forgave you. And over all these virtues put on love, which binds them all together in perfect unity.
1 Timothy 5:8
Anyone who does not provide for their relatives, and especially for their own household, has denied the faith and is worse than an unbeliever.
James 4:1-3
What causes fights and quarrels among you? Don't they come from your desires that battle within you? You desire but do not have, so you kill. You covet but you cannot get what you want, so you quarrel and fight. You do not have because you do not ask God. When you ask, you do not receive, because you ask with wrong motives, that you may spend what you get on your pleasures.
_______________________
FRIENDS / FAMILY OF OTHER RELIGIONS
How to deal with religious differences among friends.
Check out these articles:
Read through these Scriptures:
1 Corinthians 7:12-17
To the rest I say this (I, not the Lord): If any brother has a wife who is not a believer and she is willing to live with him, he must not divorce her. And if a woman has a husband who is not a believer and he is willing to live with her, she must not divorce him. For the unbelieving husband has been sanctified through his wife, and the unbelieving wife has been sanctified through her believing husband. Otherwise your children would be unclean, but as it is, they are holy.
But if the unbeliever leaves, let it be so. The brother or the sister is not bound in such circumstances; God has called us to live in peace. How do you know, wife, whether you will save your husband? Or, how do you know, husband, whether you will save your wife?
1 Corinthians 9:19-23
Though I am free and belong to no one, I have made myself a slave to everyone, to win as many as possible. To the Jews I became like a Jew, to win the Jews. To those under the law I became like one under the law (though I myself am not under the law), so as to win those under the law. To those not having the law I became like one not having the law (though I am not free from God's law but am under Christ's law), so as to win those not having the law. To the weak I became weak, to win the weak. I have become all things to all people so that by all possible means I might save some. I do all this for the sake of the gospel, that I may share in its blessings.
1 Corinthians 10:27-33
If an unbeliever invites you to a meal and you want to go, eat whatever is put before you without raising questions of conscience. But if someone says to you, "This has been offered in sacrifice," then do not eat it, both for the sake of the one who told you and for the sake of conscience. I am referring to the other person's conscience, not yours. For why is my freedom being judged by another's conscience? If I take part in the meal with thankfulness, why am I denounced because of something I thank God for?
So whether you eat or drink or whatever you do, do it all for the glory of God. Do not cause anyone to stumble, whether Jews, Greeks or the church of God— even as I try to please everyone in every way. For I am not seeking my own good but the good of many, so that they may be saved.
2 Corinthians 6:14
Do not be yoked together with unbelievers. For what do righteousness and wickedness have in common? Or what fellowship can light have with darkness?
Matthew 5:13-16
"You are the salt of the earth. But if the salt loses its saltiness, how can it be made salty again? It is no longer good for anything, except to be thrown out and trampled underfoot.
"You are the light of the world. A town built on a hill cannot be hidden. Neither do people light a lamp and put it under a bowl. Instead they put it on its stand, and it gives light to everyone in the house. In the same way, let your light shine before others, that they may see your good deeds and glorify your Father in heaven."
Matthew 7:12
So in everything, do to others what you would have them do to you, for this sums up the Law and the Prophets.
Romans 2:14-15
Indeed, when Gentiles, who do not have the law, do by nature things required by the law, they are a law for themselves, even though they do not have the law. They show that the requirements of the law are written on their hearts, their consciences also bearing witness, and their thoughts sometimes accusing them and at other times even defending them.
1 Peter 2:11-12
Dear friends, I urge you, as foreigners and exiles, to abstain from sinful desires, which wage war against your soul. Live such good lives among the pagans that, though they accuse you of doing wrong, they may see your good deeds and glorify God on the day he visits us.
1 Peter 3:15
But in your hearts revere Christ as Lord. Always be prepared to give an answer to everyone who asks you to give the reason for the hope that you have. But do this with gentleness and respect…
_______________________
LETTING GO OF TOXIC RELATIONSHIPS
How do you take yourself away from toxic people in your life?
What do I do when I have a friend that makes me feel like a burden to them? Do I talk to them or ignore it?
Check out these articles:
Read through these Scriptures:
Psalm 1
Blessed is the one
    who does not walk in step with the wicked
or stand in the way that sinners take
    or sit in the company of mockers,
but whose delight is in the law of the Lord,
    and who meditates on his law day and night.
That person is like a tree planted by streams of water,
    which yields its fruit in season
and whose leaf does not wither—
    whatever they do prospers.
Not so the wicked!
    They are like chaff
    that the wind blows away.
Therefore the wicked will not stand in the judgment,
    nor sinners in the assembly of the righteous.
For the Lord watches over the way of the righteous,
    but the way of the wicked leads to destruction.
Proverbs 17:17
A friend loves at all times,
    and a brother is born for a time of adversity.
Proverbs 22:24-25
Do not make friends with a hot-tempered person,
    do not associate with one easily angered,
or you may learn their ways
    and get yourself ensnared.
Ecclesiastes 4:9-12
Two are better than one,
    because they have a good return for their labor:
If either of them falls down,
    one can help the other up.
But pity anyone who falls
    and has no one to help them up.
Also, if two lie down together, they will keep warm.
    But how can one keep warm alone?
Though one may be overpowered,
    two can defend themselves.
A cord of three strands is not quickly broken.
1 Corinthians 15:33
Do not be misled: "Bad company corrupts good character."
James 3:16
For where you have envy and selfish ambition, there you find disorder and every evil practice.